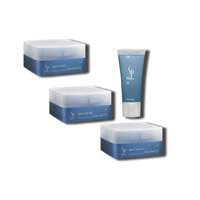 WELLA
❤️


SP - SYSTEM PROFESSIONAL
Man hair color
---
---
JUST MEN - SUB -00
A dedicated line styling that most soothes the skin and revitalizes.
JELLY TONIC
Energizing tonic gel. Gives optimum hydration and new vitality to the hair and skin.
box: 175 ml tube.
SHAMPOO GEL PASTE
For refreshing and energizing hair and body. Provides moisture to skin and hair.
box: 175 ml tube.
GEL WAX POLISH
Styling reshaped throughout the day. Full bodied for an application easy and refreshing.
box: 100 ml jar.
---
Rate this product:
30 click
Viewed 108831 times
+3903311706328
Download PDF
Products for hairdressers