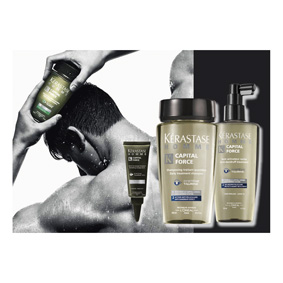 KERASTASE
❤️


CAPITAL FORCE
Man hair color
---
---
strengthening program to preserve capital Male Hair
The main issues capillaries of men are :  
- Hair loss : frequently is due to a hormonal cause and is localized at the temples , the top of the head and forehead . The enzyme 5 - α -reductase, becomes secondary hormone testosterone which , at the front area of the top of the head and temples alters the normal life cycle of the hair accelerating the fall .  
- Capillary abnormalities concomitant hair with dandruff for 32% of men, with excess sebum hair for 19 % of men , devoid of body hair for 36% of men.  
Système Taurine is an exclusive concentrate of specific assets to combat these problems .  
CAPITAL FORCE INTENSE  
Shock treatment energizing and purifying . An awakening of energy for the scalp thanks to a professional revitalizing massage .  
ESSENCE CAPITAL FORCE  
Double intensity and effectiveness. A distinctive textures in oil removes impurities affinity for fat present on the scalp.  
box: spout applicator tube with 12 ml .
---
Rate this product:
30 click
Viewed 126347 times
+3903311706328
Download PDF
Products for hairdressers