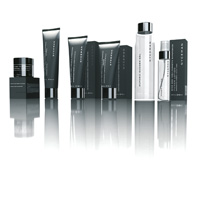 NYCE
❤️


NYCEMAN
Man hair color
---
---
A line of cosmetics multifunctional, dedicated to the man who likes to take care of themselves. The line NYCEMAN was created for the care of the face and hair and consists of :
EASY SHAVE GEL - 125 ml
A gel -based shaving Thermal Water and Citrus Mix for a cool and protected. Its special formula softens the hair, making it easier to shave.
POWER FRESH CREAM - 75 ml
A cream refreshing, energizing and moisturizing facial based Thermal Water, Citrus Mix and Argan Oil. Ideal when used after shaving or any time you want to facial skin fresh, soft and fragrant.
INFUSION THERMAL - 50 ml
An anti-aging cream made ​​with thermal water, Argan Oil and Hyaluronic Acid and a Tetrapeptide able to fight at the phenomena of facial muscle relaxation, protects the skin cells from aging.
euforic SHOWER GEL - 250 ml
Gently cleanses hair and scalp, releasing his note enveloping, energizing and refreshing. Contains EUPHORYL molecule euphoric action that stimulates the production of dopamine, a molecule of happiness.
POWER LOTION - 50 ml
An energizing tonic for skin and hair made ​​from Thermal Spring Water. The Kopexil patented complex, strengthens the hair, prevents premature loss and increases the anagen phase.
---
Rate this product:
30 click
Viewed 114073 times
+3903311706328
Download PDF
Products for hairdressers