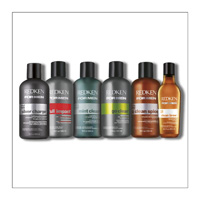 REDKEN
❤️


HAIRCARE MEN
Man hair color
---
---
the solution for every need
SPICE CLEAN SHAMPOO
2 in 1 Shampoo and Conditioner, to give deep conditioning and manageability to hair and rebalance the scalp. It stimulates the senses and invigorates the skin thanks to its mix aromatic.

MINT CLEAN SHAMPOO
Strengthens hair and balances the skin with an incredible burst of freshness.

GO CLEAN SHAMPOO
Gently cleanses, removes impurities and leaves hair soft and manageable rebalancing the scalp. Regenerate dry hair without weighing it down.

FULL IMPACT
Specific shampoo for fine hair and weak. Cleanses and removes impurities that weigh your hair, gives volume and helps to strengthen the hair.

SILVER SHAMPOO
Fortifying Shampoo for gray or white hair which gradually removes the yellow highlights restoring the natural color.
box: bottles of 300 ml.

BREW CLEAN
Extra cleansing shampoo malt and yeast. It gives a deep clean every type of hair and deep cleanses the scalp.
box: 250 ml bottle.
---
Rate this product:
30 click
Viewed 127438 times
+3903311706328
Download PDF
Products for hairdressers